Best Visual Award 2012
So, it was our final exhibition with woodruff brand and my two other teammates. We were supposed to set up a booth that represent our brand, and we chose to make a booth that portrayed the artistic side of woodruff.
Because woodruff is a brand with unpretentious nature and environment-friendly, we opted to use materials that recyclable and available everywhere – papers.
The concept behind our booth is the arts installation, meaning all the things that complimenting the booth has its own artistry and story.
And we sort of having this idea of geometric clouds rising to the top, to the future that beyond our imagination.
We started by building the backdrop, paper-made clouds that shape like octagons, with lightings on the upside and bottom-side, highlighting the contouring of the backdrop. Then we built the display table which are two small table made entirely from wooden baskets and papers. It ended up looking like cabbage so we named it the cabbage tables. We hanged the clothes on the side, so it won't blocked the view of our signage. We hanged it using organza ribbon, tied it to the metal racks that has holes in it. The signage itself were made from acrylic, and we hanged it using recycled wire, found somewhere in our studio.
After 8 hours struggling to hang everything on its place, our booth was finished – and it looked good. and we won Best Visual Awards 2012

not bad huh.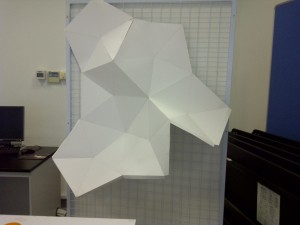 -Testing the Backdrop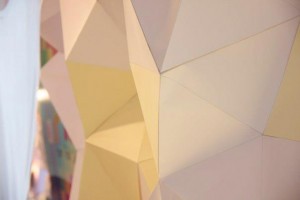 -Backdrop close-up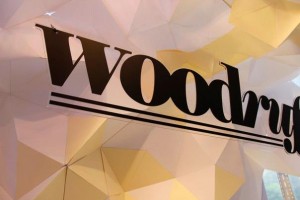 -Acrylic Signage close-up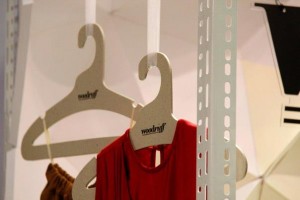 -Hanged Clothes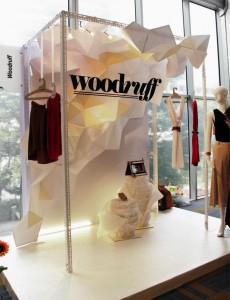 -Final Graduation Booth – simple and sustainable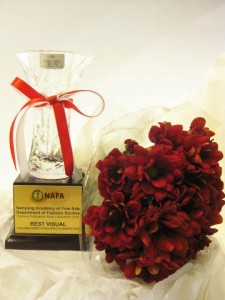 -Our Trophy